Weekly Meetings 2018-2019


During the Fall and Spring semesters the WMGG will continue to meet in the Bernhard Center Cafe & Market dining area at Western Michigan University.
General meetings begin at 6:30pm every Friday evening and run until about 11:30pm. We do not meet during the Summer semesters or when classes are not in session. See the WMU calendar if you are unsure.
Those unfamiliar with campus often mistake the food court seating on the lower level of the Bernhard Center for the Cafe. Be aware that the Cafe dining area is on the main level of the building.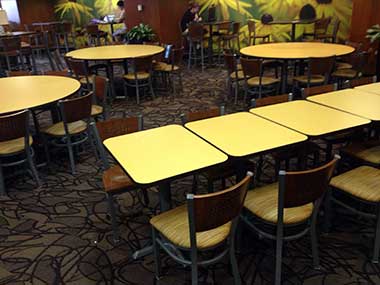 The Bernhard Cafe features comfortable seating, lighting and accoustics as well as plenty of space to spread out and play.
Those attending WMGG meetings are perceived to be representing our organization. As such, we ask that all attendees display common respect and courtesy while on the WMU campus.